Quadrille Events
Weather may be wet this weekend, but it's not freezing!
Join us for our FIRST QUADRILLE PLAYDATE of the season!
Register on-line at www.dvcta.org/quadrille-event-entry.
Remaining Playdates for 2018:
Sunday, February 11 at Ardara Sporthorses / Cochranville
Sunday, February 25 at Kealani Farm / West Grove
Sunday, March 4 at DunMovin / West Chester
Anyone interested in trying out for the First Level exhibition team should attend one of these sessions.
Don't forget the Quadrille Dinner is on Wednesday, March 28 6:30pm!
All quadrille enthusiasts are invited.
Hope to see you there!
---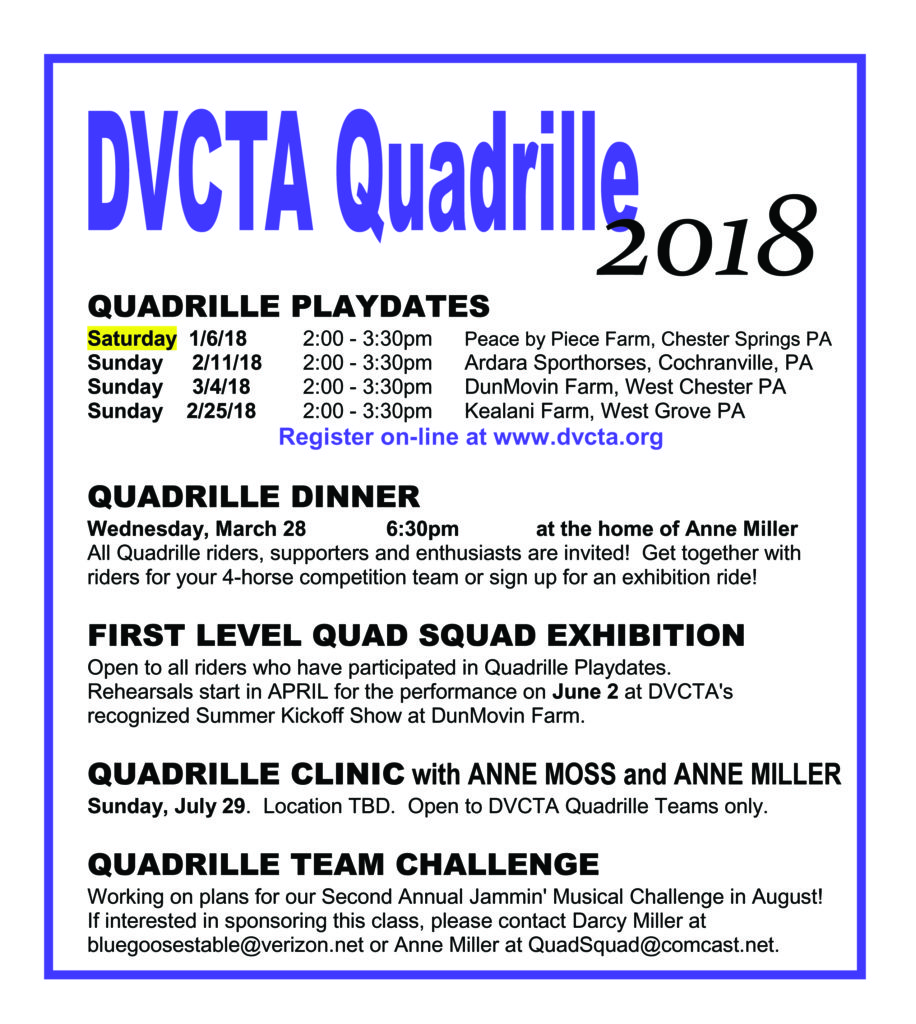 Online Quadrille Event Registration
---
Quadrille Event Release Forms
---
Thank you to our supporters!
We would like to thank those farms who have supported Quad Squad by donating or discounting ring fees at their facilities for quadrille practices and/or Quadrille Playdates:
---
DVCTA QUAD SQUAD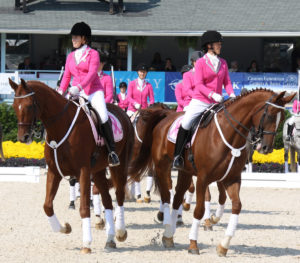 So you think you want to dance with your horse, but going down centerline solo is a bit intimidating? Join the Quad Squad! Each team consists of 6-12 horses that perform exhibition rides at prestigious events within our region. Venues have included Dressage at Devon, Fair Hill International, Jersey Fresh CDI, Plantation Field's BEST.EVENT.EVER, Ride for Life's Dancing Horse Challenge and our annual DVCTA recognized Spring Dressage Show. Quadrille riding is all about synchrony, spacing and alignment and is an excellent way to vary your horse's training routine. Horses and riders both love it! If you and your horse work well with others, come join us!
Riders on the Quad Squad volunteer their time to practice and perform with the teams and their devotion is greatly appreciated. Riders must be active members of DVCTA in order to be considered for a team. We have teams at First, Second and Third Level based on the horse's level of training and the rider's quadrille experience. There is a $25 participation fee payable to DVCTA for each team member to help cover costs of costumes, insurance and ring fees.
Quadrille Playdates are planned at local indoor arenas during the winter (January – March) to introduce newcomers to quadrille. These events are fundraisers for the Quad Squad and anyone is welcome to attend – DVCTA members receive a discount! To register for upcoming Quadrille Playdates, check back with us in December!
Past, present and future quadrille riders are invited to attend our Quadrille Dinner that is held every year in March. Plans are finalized for the upcoming year and First Level Team members are picked. It's always good to bring a calendar to this meeting!
Volunteers are always needed for our performances and hours earned at Quad Squad rehearsals and exhibition rides count towards DVCTA year-end awards.
Interested? Please complete the QUADRILLE INFO SHEET (link below) and return it to DVCTA Quad Squad Manager Anne Miller at quadrille@dvcta.org. We'll be in touch!
For Quad Squad Photos since 2011, please see our Quadrille Gallery page!